Introduction to Stone Veneers for Cladding
Most stone cladding today is available as a stone veneer. This is where the stone is only 25-40mm thick and is glued to the wall as you would a wall tile. There are many advantages to doing things this way. The cost is lower than foot-loaded masonry, there is lower earthquake risk, and it is easier to get it passed through your local council. These three reasons are probably why schist veneer has become the primary way to do stonework.
SUMNER is the comprehensive solution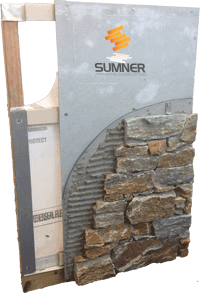 SUMNER Schist Cladding System
We designed the SUMNER™ System to be the best solution on the market for thin stone slip and veneer.
SUMNER™ has been used on projects throughout New Zealand for the past 12 years. An accepted solution that is highly sort after because there are no cost savings when a project fails. Customers looking for cost savings should select a less expensive stone rather than an inferior system.
SUMNER™ specialises in stone veneer. We supply stone veneer ready to install and, at the same time, deliver the adhesive, board, tape and every component needed to complete your project. You can see a photo of our SUMNER™ System (left). We designed and tested every element to ensure the installation is weathertight, structural and problem-free. To protect our projects we do not support product substitution, instead electing for transparency and reporting replacement to local building control officers.
Now usable in Extra High Windzones
In May 2019 we passed Extra High Windzone testing (60m/s). We are one of the only stone veneer claddings usable in extra high windzones. If your project is in the extra high windzone you should attach the document below when applying for consent.
SUMNER -Extra High Windzone test report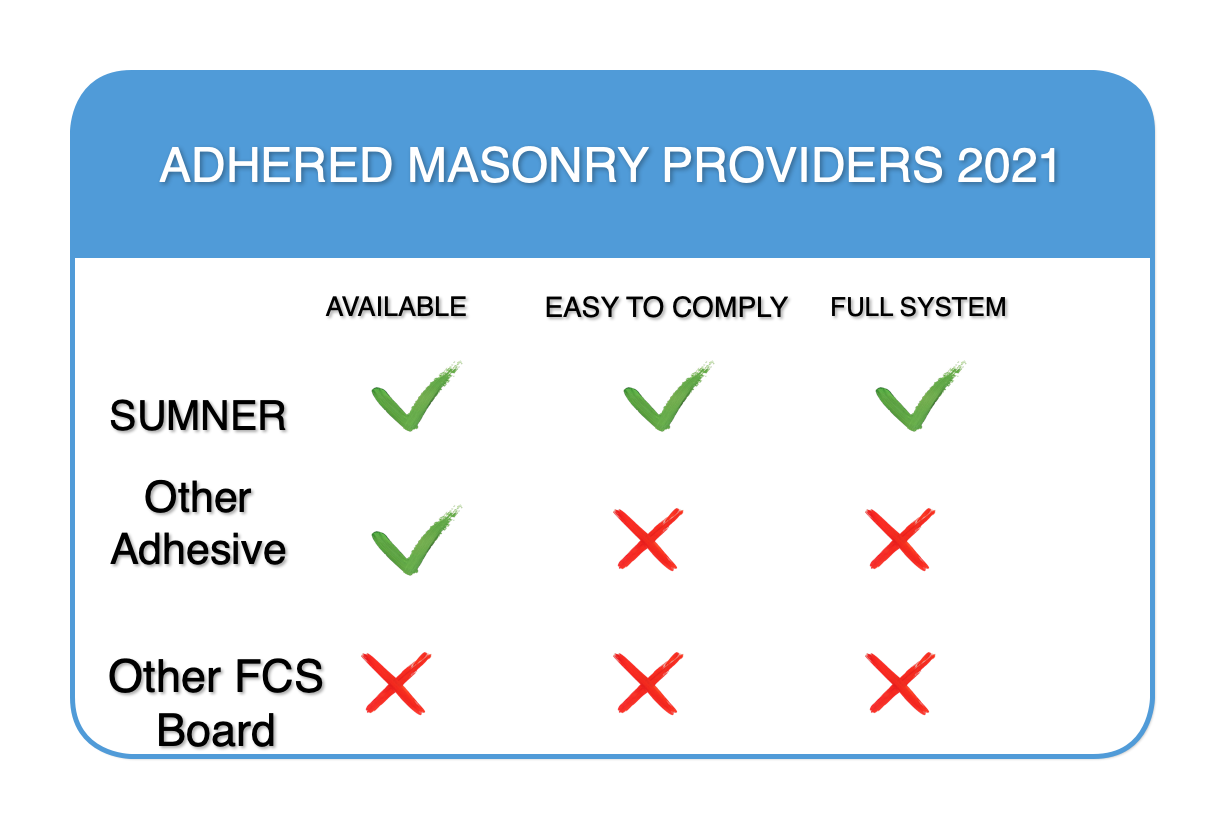 Builders
Receive pre-cladding that is fast and easy to assemble.
Architects
Supported by high level SUMNER CODEMARK compliance.
Architectural CAD details available to download as .rvt, .dwg and .pdf from our website.
Written specifcations available from both Masterspec and Smartspec.
Avoid unwarrantable noncompliant methods.
Customers
Choose from our large stone selection.
Knowing they receive the best price.
Comprehensive full 15 year guarantee. Most other companies do not warrant weather tightness or that the veneer won't pull free. SUMNER's guarantee covers all of these.
Why SUMNER?
Avoid Direct Fix - For years the tile industry direct fixed over membraned decks. The method had expensive weathertighness and repair issues, however, where councils were liable. Unsurprisingly this method was removed from the NZBC. Now cladding is following suit. Councils are rejecting consent applications where they would be liable for direct fix cladding failures. This makes SUMNER's cavity over masonry an excellent solution to direct fix.
Avoid unwarrantable precladdings. We recomend our SUMNER Board but not Hardies, BGC or Eterpan.
As stone suppliers we are dedicated to the commercial supply of schist and stone veneer.
CODEMARK means guaranteed compliance .
SUMNER Board is more dense than most fibre-cement boards, having a density of 1420 kg per cubic metre. The stone, adhesive and board are similar in their makeup and consequently have a similar lineal coefficient of expansion and contraction. An advantage of using a system designed specifically for stone veneer.
SUMNER™ Schist Veneer Applications
As you will see from our project gallery SUMNER™ schist veneers are used on both commercial and residential projects throughout New Zealand. Most installations can be divided into either stone walling or stone columns. Walling is fairly straight forward, however stone columns we will discuss in detail because when done properly schist veneer stone columns look fantastic.
Stone Columns
There are two methods for cladding columns with stone veneers. In both instances the structure needs to be built to the correct size as the product is in modular predefined lengths. Our instant quote lets you select either option and alerts you as to the price difference to help you with your decision.
Solid L corners
Solid L Corner units are preformed to wrap around the column. They are available in our Otago Series, Ledgestone Series, Traditional Series and some Bluestone Series products. This unit is slightly more expensive but well worth the cost.
Natural Ends
Another very acceptable way of finishing stone columns. As its name suggests these panels have one natural end which extends past the end of the column. The next panel then returns back along the adjacent face and so on. The finish is not as perfect as the previous method, but the cost is also lower.
Along with columns there are many instances where veneer stonework is used to good effect. Feature walls, large exterior chimneys, interior fireplaces, perimeter boundary walls and entrance gates. Here are just a few photos from our current projects:
SUMNER trained and approved applicators
All SUMNER applicators are trained by SUMNER staff before certification to install our system. All SUMNER projects are professionally installed. Here are some photos from our training days this year.
Where to from here?
We highly recommend looking at our products page where we place photos and videos for all our stones. We have an architectural office in Auckland where you are welcome to view our products. Alternatively if you are in the South Island a CMS representative can call in to discuss your project. All our details can be found on SUMNER's Contact webpage. If you are interested in using SUMNER™ products please phone us to discuss.
Did you know?
SUMNER's system can be used to comply and install other stone veneers. Please refer to our System Partner page for more details.
Specifiers Resources
Generate specifications with confidence.
Both providers shown below ensure they provide written specification current with the New Zealand Building Code and New Zealand law. We recomend Masterspec which redirects you to SUMNER's 4272s Natural Stone Veneer Specification. Smartspec requires a user login and is also highly recommended.
Full system details and drawings can be found on our document page.
Brick Veneer
For clients using brick veneer we recommend RED TABBED flat packed masonry panels. An exciting, new, all in one modular panel prefabricated off site which is well suited to larger projects such as hotels, appartments or retirement homes. This panel differs from stone veneer systems as it is installed with screws not adhesive.