Adhered Masonry Veneersincluding schist cladding, stone veneer, and brick cladding.
Many brick, stone and tile cladding options are available to consumers these days. The installation process can be as simple as gluing the decorative masonry to a wall. Wall tiles can be as thin as 4mm, bricks 11 to 25mm and stone approximately 20 to 60mm. The advantages of adhered masonry is it costs less than foot-loaded masonry, there is lower earthquake risk, and with our SUMNER® Adhered Masonry Veneer system it is easier to gain council consent. These three reasons have contributed to why adhered masonry veneers are so popular.
SUMNER® - Our adhered masonry solution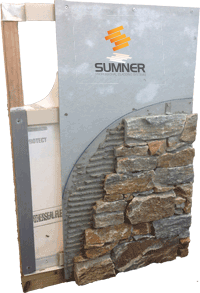 SUMNER Schist Cladding System
SUMNER® is the best system on the market for adhered masonry veneer.
For more than 15 years, our system has lined homes throughout New Zealand. During this time, more and more builders have turned to SUMNER®. Mainly for its reliability and the knowledge that our system protects their clients and projects from cladding failures. Customers looking for cost savings should select a less expensive stone rather than an inferior system.
SUMNER® also supplies the masonry finishes. Delivered ready to install, along with the adhesive, board, tape and components to complete your project successfully. You can see a photo of our SUMNER® System (left). We designed and tested every element to ensure installations are weathertight, structural and problem-free. We do not endorse product substitution, which may result in problems and failures. Our product technical statement ensures performance. To protect our clients and the industry, we always inform building control officers any system or product substitutions.
Focus on Irrecular Stonework
A SELECTION OF IRREGULAR EUROPEAN STONES.
WHAT IS TRENDING
Heading into 2023, the stone favoured by both homeowners and stonemasons is our SUMNER Light Grey schist. The light, airy tones work harmoniously with modern colour palettes, which avoid the dark, brooding stone of the past.
Clients can select from our existing range of stone finishes, but for only $10 more per meter, SUMNER Light Grey is an exceptional value. The quality is far superior to other schist products, and brown highlights can be proportion introduced at the site. Until recently, this type of blending was unique to Hyde Light Grey and Hyde Brown before the closure of the Hydestone quarry in 2021. We now offer our clients this same flexibility. SUMNER Light Grey is exclusive to SUMNER Adhered Masonry. Please see thisDavid Reid Homes projectfor photos and more information.
SUMNER system benefits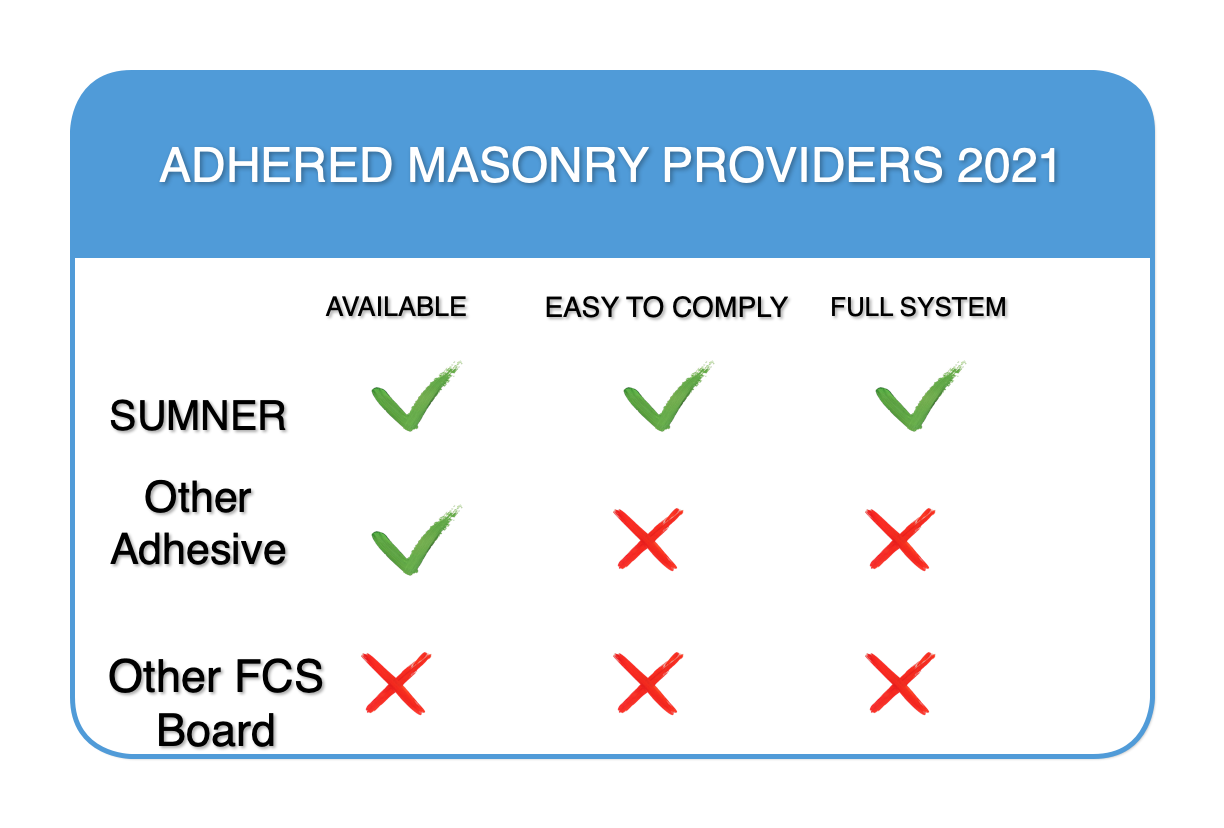 Builders
Receive pre-cladding that is fast and easy to assemble.
SUMNER® Board is asbestos-free!
Architects
Avoid time navigating third-party specification websites when it is free and easy to
download
right here:
Download our SUMNER Product Technical Statement, which demonstrates compliance with the relevant building code clauses.
Download full CAD details for Revit or as DWG file or PDF.
Download SUMNER® written specification
Avoid unwarrantable non-compliant methods.
Customers
Can choose from our large selection of adhered masonry veneers.
Receive competitive market pricing.
Receive warranties that our quality products are fit for purpose, backed by more than 20 years of industry experience.
WAIKATO PROJECT RECENTLY COMPLETED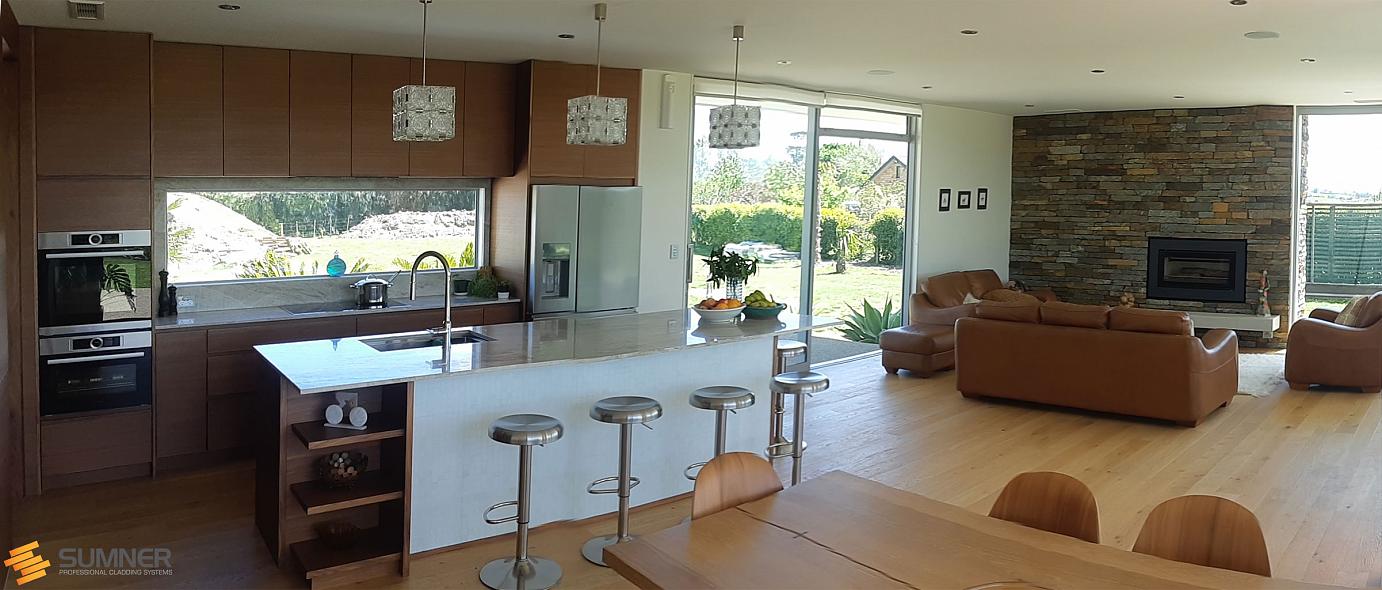 Why SUMNER?
We specialise in adhered masonry veneers.
Avoid adhesion failures. Use SUMNER Grip Plus, our highly modified masonry veneer adhesive.
We only use best practise and recommend a constructed cavity in favour of direct fix.
We supply quality system products needed for successful, long-lasting installations.
We have more experience with adhered masonry than any other New Zealand company.
SUMNER Board is denser than other boards, with a 1420 kg per cubic metre density.
We have high-end finishes exclusive to SUMNER.
Our finishes are designed to add value.
Our VERMINI battens are heavy duty and fluted to manage moisture, prevent vermin, are non-pourous to avoid mould.
Our system is designed and used specifically for masonry veneer.
We value customer confidence and return business.
SUMNER® Projects for inspiration
Click on the gallery below to view photos from a selection of our work.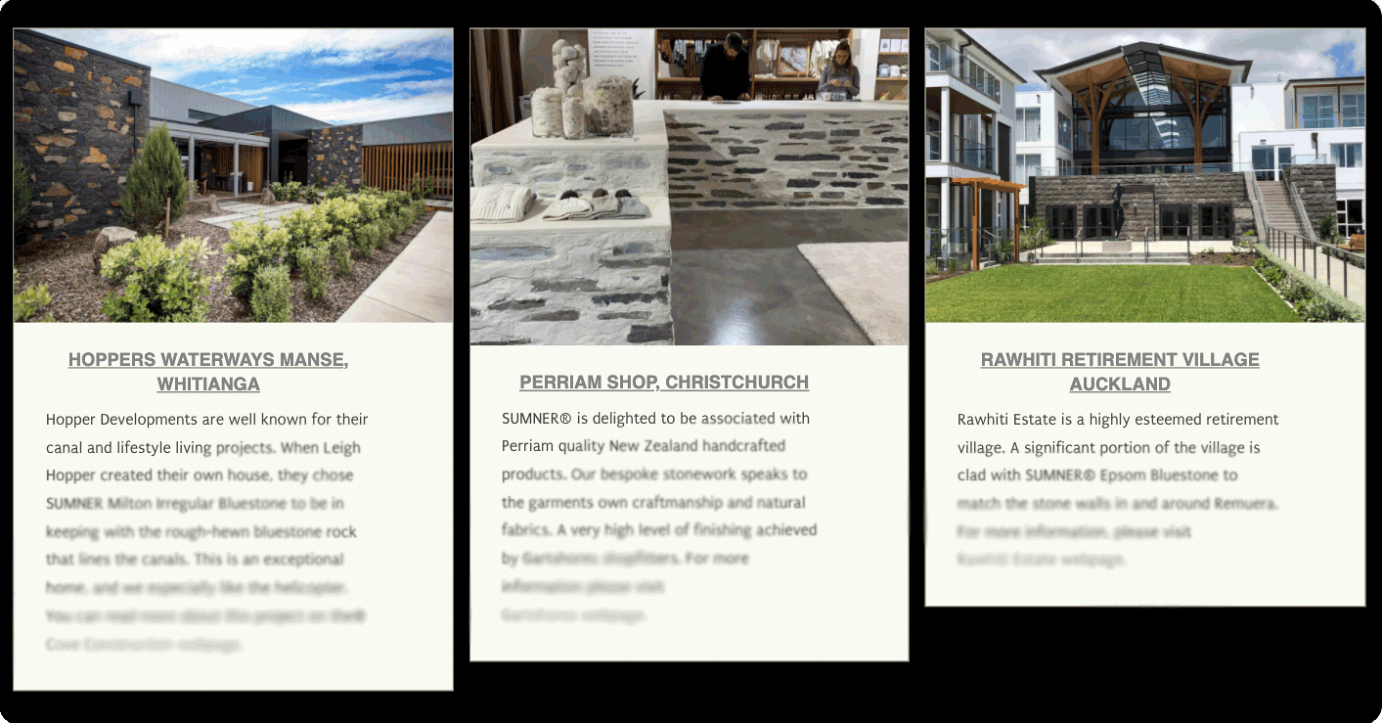 SUMNER® adhered masonry is used on commercial and residential projects throughout New Zealand. Many installations include columns or chimneys, which require external corners. To discuss this further, we have an example of stone veneer columns which came up fantastic.
Stone columns using modular panels
Below are two methods to successfully install modular panels to columns. Timber-framed columns need to suit our stone panels, and we recommend discussing this with our sales staff.
Solid L Corners
Solid-L corner units are pre-formed to wrap around a column and are available for most stones. This technique is slightly more expensive but well worth the cost (see video).
Natural Ends
We use Natural-End panels to tile around columns. The natural end extends past the edge of the column, with each adjacent side tiled similarly. Repeat until all four sides of the column have their first course of stone. The finished column will look similar using Solid L Corners but costs less.
QUEENSTOWN PROJECT NEARING COMPLETION

Adhered masonry can create breathtaking features, such as the large stone chimneys of bespoke mansions or the entrance pillars to prestigious subdivisions whose initials monogram the stonewalls. Adhered masonry is in the entrance foyers of grand hotels and wraps around the warm interior stone fireplaces of family homes. Sturdy bluestone is a popular masonry veneer for boundary walls. Recently, we have even been using recycled red brick slip to recreate New York styled apartments' walls. The value of adhered masonry is in its appearance. However, if installed incorrectly, without using the correct products or method, then it can come unstuck. We highly recommend using SUMNER® adhesive products. Also, if you think your project will benefit from formal installation training, please contact us. The following photos are from some of our training days:
SUMNER® Installer Training
SUMNER® averages six training days per year in which installers are instructed in both theory and practical application. Our training is regarded as the best in the industry and is a must for both professionals and DIY. Learn the techniques to ensure your fitment lasts the test of time. Contact our office to enrol for our next training day in your region. Below are photos from previous training days.
Where to from here?
We highly recommend looking at ourproducts pagewhere we place photos and videos for all our stones. We have an architectural office in Auckland where you are welcome to view our products. Alternatively if you are in the South Island a CMS representative can call in to discuss your project. All our details can be found on SUMNER'sContactwebpage. If you are interested in using SUMNER® products please phone us to discuss.
Did you know?
SUMNER's system can be used to comply and install other stone veneers. Please refer to ourSystem Partnerpage for more details.
Specifiers Resources
SUMNER® only uses the best products, and we believe in quality projects. You can specify SUMNER® adhered masonry veneer with confidence by using our written specification below:
SUMNER 1.0.2 Written Specification for adhered masonry veneer.

Full system details and drawings can be requested from ourdocument page.
Brick Veneer
For clients usingbrick slipwe also recommend Stelleria and CLICKBRICK®. CLICKBRICK® is a modular panel pre-fabricated off site suitable for larger projects such as hotels, appartments or retirement homes. This panel differs from adhered masonry as it is installed with screws not adhesive.