SUMNER™ Product Partner
ATTENTION Quarries, Stonemasons, Veneer Importers and Stone Veneer Manufacturers!
SUMNER Schist is working with other companies to improve New Zealand's stone veneer industry and create better qualified and more attractive stonework. SUMNER supplies pre-cladding, often referred to as a rainscreen, and also a proprietary adhesive system for the successful installation of stone veneer.
There are other board suppliers, and also other adhesive suppliers but none offer the complete system. Many are not appraised. SUMNER however has the first and only Codemarked stone cladding system in New Zealand. It is the highest qualified system on the market, and we are welcoming other companies to use it. The stone veneer can be from other suppliers which means clients have endless possibilities, with compliance guaranteed.
Can I use SUMNER's system for other stonework?
Yes, so long as your stone veneer is less than 50mm thick, and is flat on the back for maximum adhesion.
We encourage local stone quarries, stonemasons and suppliers of man made stone veneers to specify and use SUMNER's pre-cladding and adhesives for their installations. We estimate that annually more than 50% of veneer installations in New Zealand are by companies that cannot demonstrate compliance with the New Zealand building code. Even after the recent national weather tightness failures, and the Christchurch earthquakes. The stone veneer industry is still very young and we would like to assist companies to gain specification by employing a nationally recognized Codemarked system.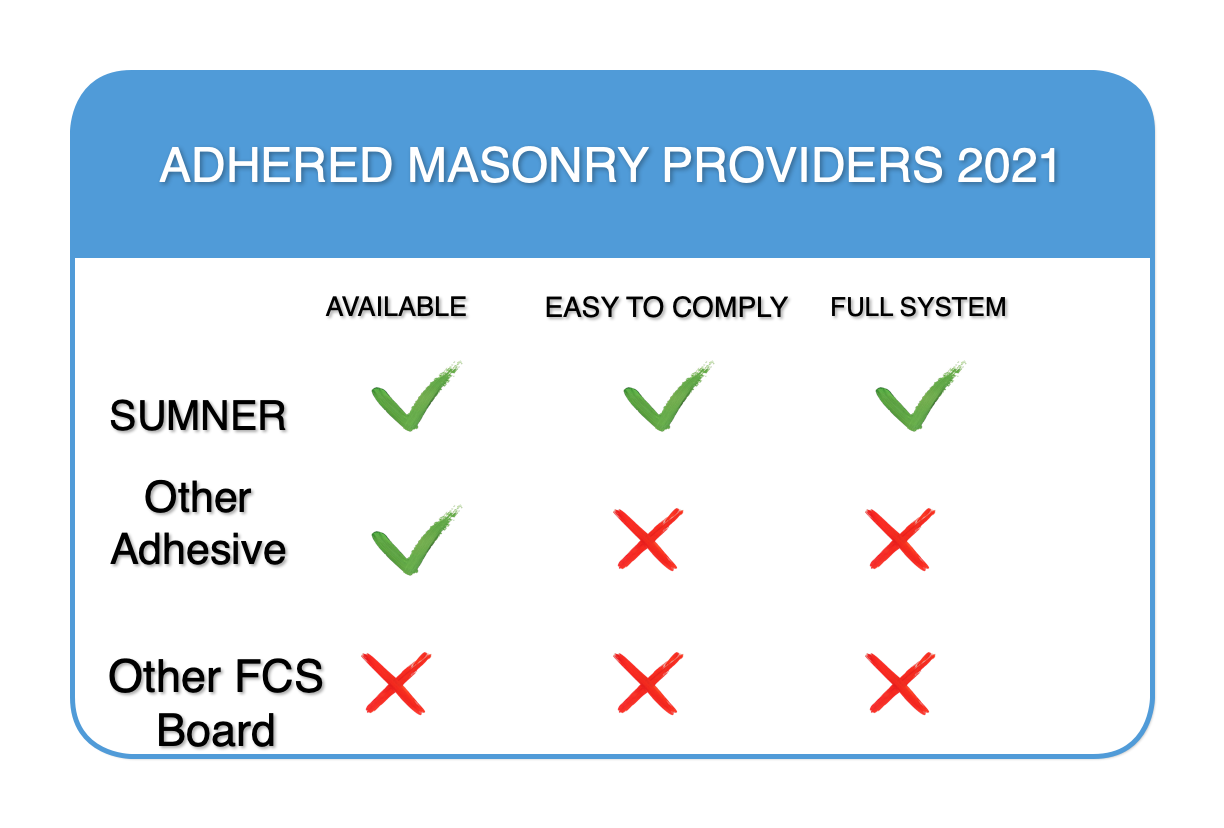 There have been big changes in 2019. SUMNER is receiving more system inquiries as one prominant fibre cement sheet product has been discontinued.
Why use SUMNER in preference to other board or adhesive systems?
There are four main reasons. Confidence, simplicity, price and availability.
Codemark guarantees compliance as Council Offices are required by law to accept Codemarked Systems without question. At the time of writing this introduction SUMNER was, and probably still is the only stone veneer system with Codemark. There are other systems operating under a BEAL or BRANZ Appraisal but appraisals are still open to Council scrutiny and can be knocked back. I think it's safe to say that no one likes red tape, and problems are best avoided.
The system I was using has expired?
You may have used a 3rd party system that has lapsed like BGC's Stonesheet, or perhaps you have your own proprietor system which has recently expired. This is not unusual, and here is where SUMNER can help. We know maintaining a system is time consuming and expensive. If your own time and capital are best used elsewhere then use SUMNER for your projects from now on.
How Do I start using this system?
When a project is specified simply nominate SUMNER as the system. For example, if you have a man made stone called "Culture Stone," you would advise your client or architect to specify:
"Culture Stone on SUMNER System"
Every year SUMNER is used on hundreds of projects all across the country. Often we find ourselves working with companies that until recently would have regarded SUMNER as competitors. This is no longer the case as you will see in the following two recent examples.
Example 1.
In 2014 we were contacted by a schist quarry near Queenstown. In the past they had quarried and distributed solid stone billets for traditional stonework. Now new to the veneer industry they needed a system to install thin stonework. After in-depth discussions they had sufficient confidence to specify SUMNER for their projects, and within 3 months SUMNER had helped them secured specification for an imminent project requiring over 1000m2.
Example 2.
The second client is an importer and supplier of Chinese schist veneer. Their appraisal had expired, so decided to nominate SUMNER's system for pricing and compliance reasons. Their first SUMNER specification secured them 200 houses over the next 2 years, so now SUMNER is used for all their future work.
These are both real life examples of how SUMNER's system has helped other stone suppliers. We know that most projects are not this large, but no matter the size of your company or project we are excited about the growth of stone veneers in New Zealand and are happy discuss how our system can assist you and your projects. Why not call us today.