SUMNER System Introduction
System Qualification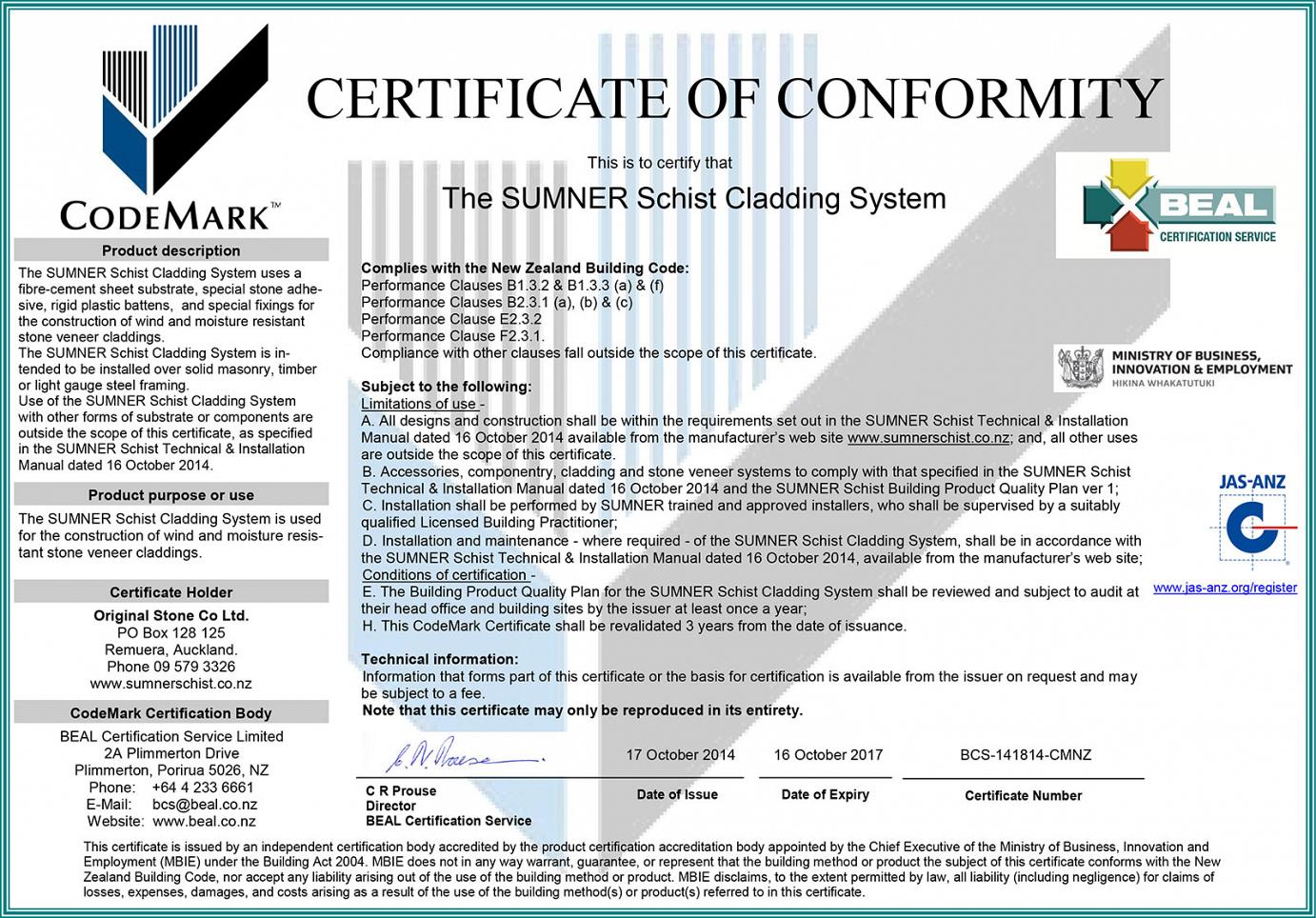 SUMNER Schist Cladding System is certified by the Codemark Certification Body for the construction of wind and moisture resistant stone veneer claddings.
Codemarked products are acceptable solutions for the New Zealand Building Code (NZBC). No other companies in our industry have this level of acceptance.
A precursor to CODEMARK is a BRANZ or BEAL Appraisal. Many of these were completed but at the time of writing most had expired. Only four were valid. Appraisals provide an opinion that the system may be considered an alternative solution to the NZBC. This means it sits outside of the NZBC. Local council authorities scrutinize alternative solutions requesting information as required. This is billable to the homeowner and time consuming for their architect. Also an appraisal does not guarantee council compliance. For these reasons we advise decision makers to avoid appraisal based products.
System Description
SUMNER system can be used to successfully install SUMNER's range of stones as well as products from other suppliers. For ease of explanation let us consider the system in two parts, namely adhesion and weathertightness.
1. Adhesion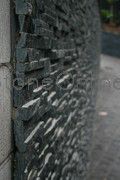 SUMNER is designed as a hybrid mechanical-adhesion system as recommended by the Department of Housing and Building. Ideal for stone of irregular shapes and sizes.
SUMNER Grip is used to bond 35-50mm, flat backed stone and 'manmade stone' to various substrates. Impressively SUMNER Grip surpasses other industry adhesives with a tested break free pull strength exceeding 3 tones! Consequently an engineered footing is NOT required. Stone is weight-loaded to the wall to which it is adhered, NOT foot-loaded like traditional stone installations. Adhesion can be direct to blockwork, brick, tiltslab and solid pour masonry, except when installing cladding. Cladding projects require a cavity to ensure weathertightness (see section 2.)
The mechanical component of our adhesive system is a proprietary stainless steel fixing which is incorporated during in the installation process. We designed our fixings to support the FULL weight of the stonework. Isolating the primary load signifigantly reduced the stress placed on the adhesive. This is how SUMNER's mechanical-adhesive system works in combination to ensure we have no failures.
Cladding requires a cavity to ensure weathertightness and this is achieved by using SUMNER pre-cladding. ie SUMNER Batten's and SUMNER Board (see photo). This is installed by your Licensed Building Practitioner(LBP) who is qualified to install restricted building work. Also this ensures compliance with the NZBC. Waterproofing and other coatings applied by someone other than an LBP is no substitute for a constructed cavity.
For more technical information please refer to the SUMNER Technical and Installation Manual on our documents page.
System Advantages
How is SUMNER different to other systems?
Only system with guaranteed compliance (CODEMARK valid until 15/10/2017).
No 3rd Party systems or warranties.
SUMNER Board is denser than most fiber-cement boards, having a density of 1420 kg/m3. The stone, adhesive and board are similar in their makeup and consequently have a similar lineal coeficcient of expansion and contraction. An advantage of using a system designed specifically for stone veneer.
Superior Battens - SUMNER's hollow core, ABS recycled plastic batten is preferred to timber battens which can develop mould inside the wallspace. More importantly in the presence of moisture timber will expand and contract behind the inert stonework. Our battens isolate this detrimental process as plastic does not swell with moisture.
SUMNER fixings unique to our system.
Superior high strength SUMNER Grip adhesive.
down vote best way and more simple to center an iframe on your webpage is :
Useful information to Include on your own website.
Clients who wish to use our system should include the content below within their own websites as it gives direction to the three classes of people involved in the project. This saves time and ensures everyone is using SUMNER consistently. This resource updated and kept current. Here is the code to do this, simply copy all and past into your site.