Adhered Masonry Veneers including schist cladding, stone veneer, and brick cladding.
Many brick, stone and tile cladding options are available to consumers these days. The installation process can be as simple as gluing the decorative masonry to a wall. Wall tiles can be as thin as 4mm, bricks 11 to 25mm and stone approximately 20 to 60mm. The advantages of adhered masonry is it costs less than foot-loaded masonry, there is lower earthquake risk, and with our SUMNER® Adhered Masonry Veneer system it is easier to gain council consent. These three reasons have contributed to why adhered masonry veneers are so popular.
SUMNER® - Our adhered masonry solution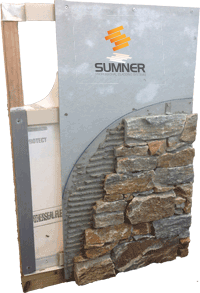 SUMNER Schist Cladding System
SUMNER® is the best system on the market for adhered masonry veneer.
For more than 15 years, our system has lined homes throughout New Zealand. During this time, more and more builders have turned to SUMNER®. Mainly for its reliability and the knowledge that our system protects their clients and projects from cladding failures. Customers looking for cost savings should select a less expensive stone rather than an inferior system.
SUMNER® also supplies the masonry finishes. Delivered ready to install, along with the adhesive, board, tape and components to complete your project successfully. You can see a photo of our SUMNER® System (left). We designed and tested every element to ensure installations are weathertight, structural and problem-free. We do not endorse product substitution, which may result in problems and failures. Our product technical statement ensures performance. To protect our clients and the industry, we always inform building control officers any system or product substitutions.
Focus on Irrecular Stonework
A SELECTION OF IRREGULAR EUROPEAN STONES.
SUMNER® Projects for inspiration
Want to see more photos of beautiful stone veneer applications. Click on the projects gallery below.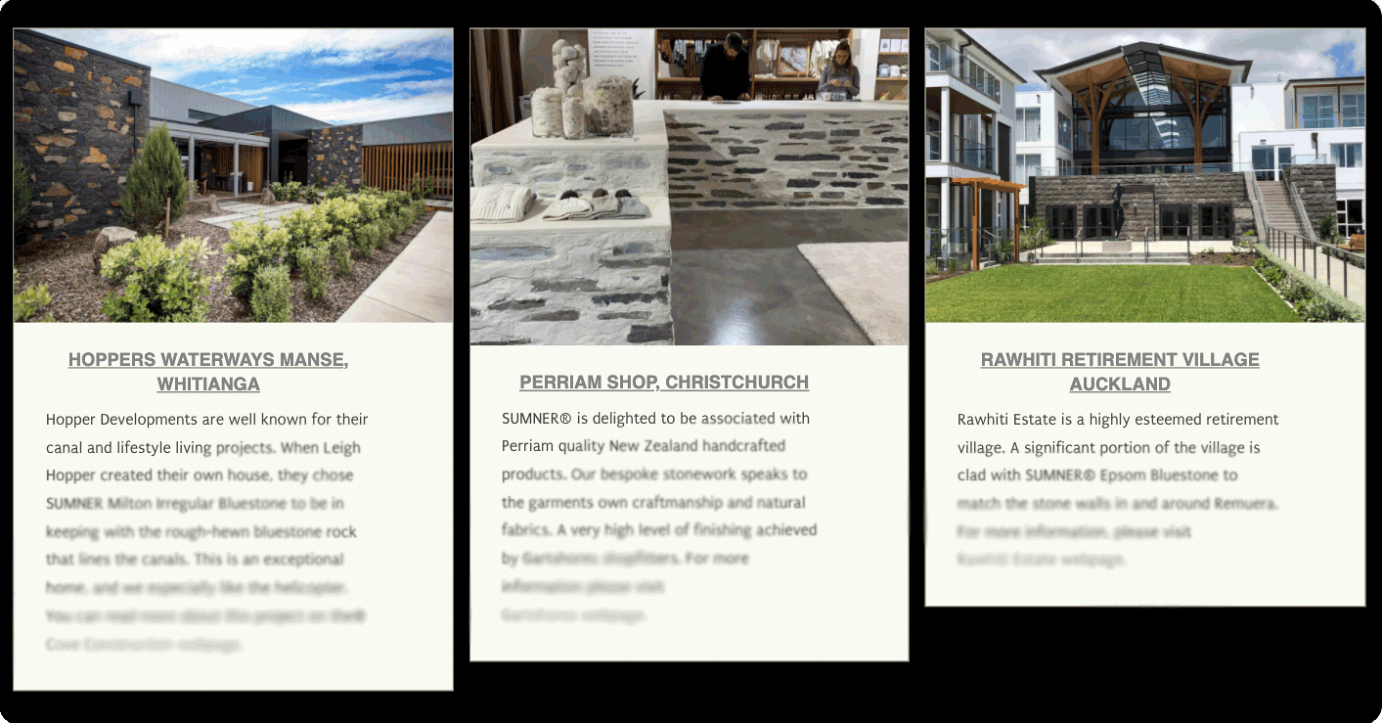 SUMNER system benefits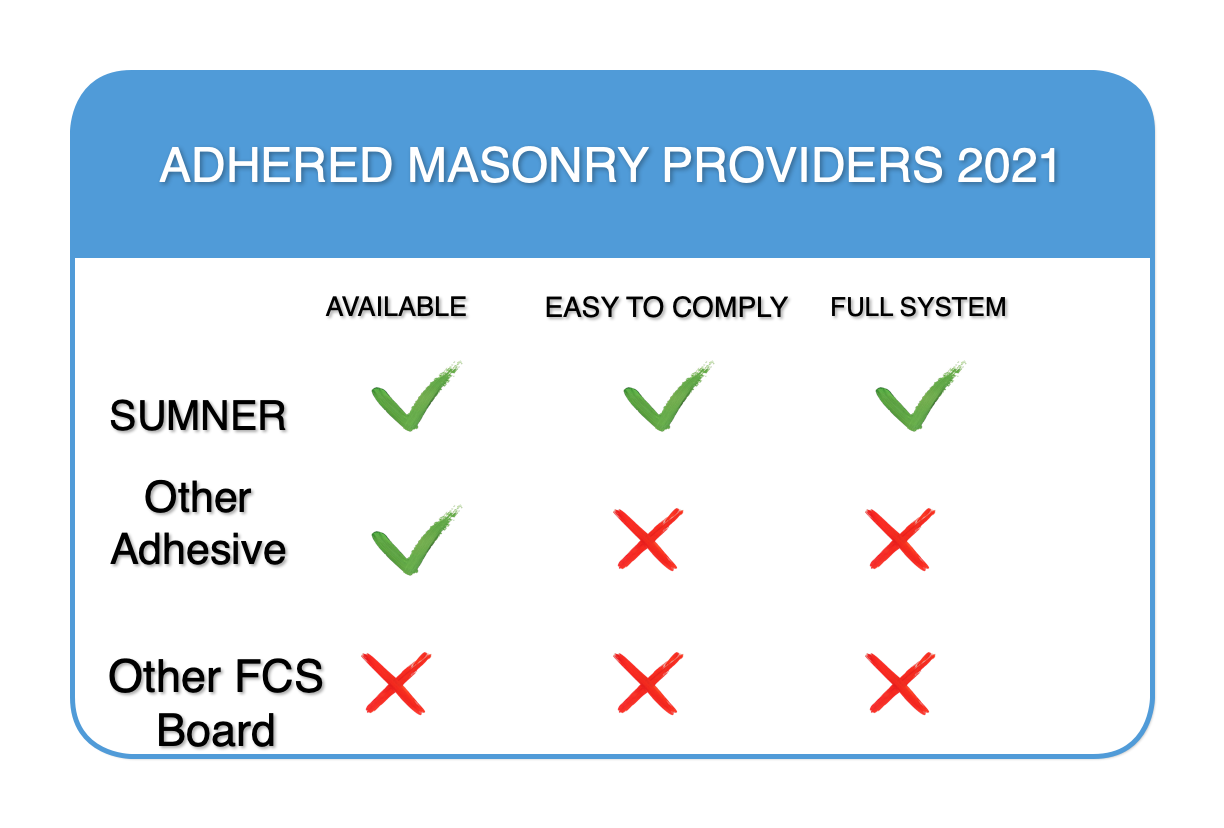 Builders
Receive pre-cladding that is fast and easy to assemble.
SUMNER® Board is asbestos-free!
Architects
Can request our SUMNER Product Technical Statement, which demonstrates compliance with the relevant building code clauses.
Can request full CAD details for Revit, or as a DWG file, or PDF file.
SUMNER® written specification is available here on our documents page. No time wasted navigating third party specification websites.
Avoid unwarrantable noncompliant methods.
Customers
Can choose from our large selection of adhered masonry veneers.
Receive competitive market pricing.
Receive warranties that our quality products are fit for purpose, backed by more than 20 years of industry experience.
Why SUMNER?
Avoid Direct Fix - For years the tile industry direct fixed over membraned decks. The method had expensive weather tighness and repair issues, however, where councils were liable. Unsurprisingly this method was removed from the NZBC. Now cladding is following suit. Councils are rejecting consent applications where they would be responsible for direct fix cladding failures. This makes SUMNER's cavity over masonry an excellent solution to direct fix.
Avoid unwarrantable precladdings. We recommend our SUMNER Board but not Hardies, BGC or Eterpan.
We are dedicated to the commercial supply of adhered masonry veneers.
Product Technical Statement for quality products needed for sucessful long lasting installations.
SUMNER Board is denser than most fibre-cement boards, having a density of 1420 kg per cubic metre. The stone, adhesive and board are similar in their makeup and consequently have a similar linear coefficient of expansion and contraction -an advantage of using a system designed specifically for stone veneer.
SUMNER® Schist Veneer Applications
As you can see in our project gallery, SUMNER® adhered masonry is used on commercial and residential projects throughout New Zealand. Many installations include columns or chimneys which require external corners. To discuss this further we have an example of stone veneer columns which came up fantastic.
Stone Columns when using panels
There are two methods for cladding columns when using modular panels. In both instances, the structure needs to be built to the correct size as panels are in predefined modular lengths. Our instant quote lets you select either option and alerts you about the price difference to help you with your decision.
Solid L Corners
Solid L Corner units are preformed to wrap around the column. They are available in our Otago Series, Ledgestone Series, Traditional Series and some Bluestone Series products. This unit is slightly more expensive but well worth the cost.
Natural Ends
The following method uses Natural End panels to tile around columns. Install the first course in a clockwise direction. Adhere the first panel, so the natural end extends past the column's edge. Then continue clockwise by fitting the sawn end of the panel in behind the overhang of the first. Repeat until all four sides of the column have their first course of stone. We use the same methodology for subsequent courses but alternate the direction of orientation each time. The finished column will look similar using Solid L Corners but costs less.
Adhered masonry can create breathtaking features, such as the large stone chimneys of bespoke mansions or the entrance pillars to prestigious subdivisions whose initials monogram the stonewalls. Adhered masonry is in the entrance foyers of grand hotels and wraps around the warm interior stone fireplaces of family homes. Sturdy bluestone is a popular masonry veneer for boundary walls. Recently, we have even been using recycled red brick slip to recreate New York styled apartments' walls. The value of adhered masonry is in its appearance. However, if installed incorrectly, without using the correct products or method, then it can come unstuck. We highly recommend using SUMNER® adhesive products. Also, if you think your project will benefit from formal installation training, please contact us. The following photos are from some of our training days:
SUMNER® Installer Training
SUMNER® averages six training days per year in which installers are instructed in both theory and practical application. Our training is regarded as the best in the industry and is a must for both professionals and DIY. Learn the techniques to ensure your fitment lasts the test of time. Contact our office to enrol for our next training day in your region. Below are photos from previous training days.
Where to from here?
We highly recommend looking at our products page where we place photos and videos for all our stones. We have an architectural office in Auckland where you are welcome to view our products. Alternatively if you are in the South Island a CMS representative can call in to discuss your project. All our details can be found on SUMNER's Contact webpage. If you are interested in using SUMNER® products please phone us to discuss.
Did you know?
SUMNER's system can be used to comply and install other stone veneers. Please refer to our System Partner page for more details.
Specifiers Resources
SUMNER® only uses the best products, and we believe in quality projects. You can specify SUMNER® adhered masonry veneer with confidence by using our written specification below:
SUMNER 1.0.2 Written Specification for adhered masonry veneer.

Full system details and drawings can be requested from our document page.
Brick Veneer
For clients using brick slip we also recommend Stelleria and RED TABBED®. RED TABBED® is a modular panel pre-fabricated off site suitable for larger projects such as hotels, appartments or retirement homes. This panel differs from adhered masonry as it is installed with screws not adhesive.